I've sat on this for almost a week. I wanted to post a card along with the news. However, this is looking like another busy week. My son has 4 golf tournaments this week. This last month of school is just crazy! Between field trips, sports and the last few school events, it's just a flurry of activity at my house!
So, I was honored to receive this badge from the gals at
Stampin' Royalty
for my work on
last week's card.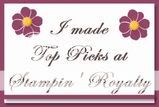 I will proudly display it in my side bar. (This could become an obsession!) It's fun being recognized!
I am hoping for a little R&R in my crafting room this week. I think I will have to ignore a substantial amount of "around the house" work to accomplish this!
How is your week stacking up?